GENERAL FAQ
Stock Availability ?
Due to some products are of low value, we implemented moq ( minimum order quantity) per order.
What you see here is what you get, or else money back guarantee!
Stock position are only indicative on this website & may not tele wth physical stock.
Please check for physical stock before raising your purchase order or make any credit card payment.
Available stock are kept here in singapore warehouses.
For details, please refer to our shipping , terms & conditions on our home page.
How to buy from us ?
There is no membership or registration fee.
Prices quoted here are subject to prevailing gst 7% imposed by the singapore government.
Gst could be waived for oversea customers. ( export permit or courier airway bill is required)
Oversea customer who make payment by tele transfer via banks, we charge s$20 to s$30 per transaction depending on country
This bank charge is waived for order above s$1000.
Payment by credit cards are acceptable via paypal only.
Payment for local delivery, can be by cash or company cheque upon delivery.
Please refer to the shipping, terms & conditions on our home page before you make any purchase.
Delivery & Collection
Delivery within Singapore mainland is free & usually is within 7 working days or at our schedule date & time.
For urgent delivery, we'll charge between $20 to $200 for each delivery.
Collection is strictly by appointment only
We provide reasonable courier or freight quotes for overseas delivery.
Customer may also appoint your own courier or freight forwarder & we will provide free delivery to your forwarder's warehouse within Singapore.
General Warranty on our Product Sold
We provide 6 months local warranty against any manufacturing defects for all products purchased.
Repair parts carry another 3 months warranty
For details , please refer to our shipping, terms & conditions on our home page
USEFUL TIPS BEFORE YOU PURCHASE
Air Compressor Trouble Shooting
PROBLEM
CAUSE
SOLUTION
Insufficient pressure at point of use OR Receiver pressure builds up slowly.

Excessive Air Requirement.
Restricted or Dirty Air Intake Filter.
Worn or broken low pressure intake or discharge valves.
Worn valve OR blown gasket.
Defective check valve
Worn piston rings
Loose tube or fittings

Use bigger air compressor or limit air usage to compressor capacity by using fewer or smaller air tools.
Clean or replace air intake filter.
Clean inlet and exhaust valves.
Replace new gasket.
Replace check valve.
Replace new piston rings.
Check and tighten fittings.

Higher pressure or air leakage form the pressure relief valve

Output pressure setting higher than rated pressure
Pressure switch or Unloading valve failure
Wrong pressure relief valve or failure

Adjust pressure setting
Adjust pressure or replace

Oil in the air or excessive oil consumption


To much oil in the crankcase
Wrong oil sea
Wrong viscosity oil
Piston ring or cylinder wall abrasion

Drain oil and fill to proper level
Replace the correct oil seal
Replace and use correct viscosity oil



Unusual vibration

Working pressure was too high
The pulley is not straight or loose
Unstable surface

Lower the working pressure
Adjust or lock
Move to a level surface or add isolation pads

Excess noise during operation

Loose valve seat
Piston impact cylinder head

Tighten valve seat
Replace thick gasket

Compressor unit overheats


Working pressure was too high
Insufficient or inappropriate lubricant
Compressor location temperature is too high or poor ventilation

Lower the working pressure
Add the correct lubricant
Relocate to a well-ventilated place

Pressure switch unloading valve does not function or leak air when unit is operating or not operating

Pressure switch unloading valve may be dirty or faulty
Check valve may be dirty or faulty

Clean, or replace unloading valve
Clean, or replace check valve

Compressor won't start

Loose electrical connection or fuse blown
Circuit breaker tripped
Motor failure or overheated

Check wiring connection or replace the fuse
After cooling down, press the circuit breaker button again.
Ask for maintenance

Motor can't start but with abnormal sound

Using too long extension cable causes pressure drop
Insufficient voltage
Motor overload
Motor crank stuck
Motor failure

Change to a shorter extension cable (Recommended to use air hose instead of extension cable)
Ask electricity company for maintenance
Release the pressure inside the air tank to make the motor start easier
Ask for maintenance
Safety tips on Tool Storage
Tool Storage
Do not open more than one loaded drawer at a time.
Do not overload drawers.
Always push a tool cabinet, do not pull.
Lock all drawers before moving the tool cabinet.
Do not move a tool cabinet that has loose tools or tools stacked on top of it.
Set the brakes on the locking casters after moving the cabinet to the work area.
What is ATEX certified?

ATEX Certified Power Tools Ensure a High Level of Safety in Explosive Atmospheres
Working in explosive atmospheres carries many challenges, the most important of which is the safety of the workers. An explosive atmosphere is defined as one in which enough flammable gas, mist, vapor or dust is mixed with air to cause an explosion if ignition occurs. The source of ignition could be either electrical or mechanical in origin. The requirements for controlling explosive atmospheres, as well as the standards for equipment and protective systems used in them, are outlined in the ATEX directive.
ATEX (ATmospheres EXplosibles) is a directive outlining a number of technical and quality objectives that must be complied with to the satisfaction of a third party certification association (such as TUV). This directive is addressed to those who design, manufacture or sell any equipment intended for use in potentially explosive atmospheres. Once the objectives have been met, the approved product is marked with the appropriate ATEX classification label and Ex symbol.
Compliance with the ATEX directive has been a legal requirement in all European Union States since July 2003. The ATEX symbol is recognized internationally, providing safety assurances to users in EU states, as well as assuring users in the U.S. and other non-EU countries that the product was manufactured to high levels of safety.
Safety on Using Wrenches
Use safety goggles, serious eye injury is possible
Pull the wrench toward you, do not push
Do not use extenders or cheater bars
Adjust adjustable wrenches tightly
Strike striking/slugging wrenches squarely, do not overblow or underblow
Use correct size wrenches, do not use fractional wrenches on metric fasteners and vise versa
Use the type of wrench that fits the job
Use a box type wrench if possible
Maintain your balance
Use a commercial lubricant on a corroded fastener
Do not use a damaged wrench, replace
Rotary Hammer & Hammer Drill
This guide also includes information on SDS, SDS-Plus, SDS-Max, and Spline drive
A hammer-drill is a beefed-up version of a standard drill, good for light-duty concrete or masonry drilling that requires holes up to 3/8-inch diameter. A hammer-drill can rotate and hammer back and forth while it drills, allowing it to bore into concrete without burning the bit. Because the hammer feature is added to a drill, it takes the same straight-shank bits as a regular drill. Due to the torque produced when drilling concrete, these bits may slip in the chuck. Most manufacturers have hammer-drills in their tool line. A hammer-drill is a good tool for homeowners, or the occasional odd job. They are generally considered to be impractical for contractors.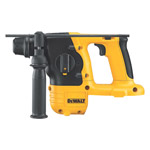 A Rotary Hammers (or Roto-Hammers) are basically hammer-drills on steroids. Though roto-hammers work in the same 'rotate-and-hammer' manner as hammer drills , they are much more powerful. They use a piston mechanism to provide the hammer action, allowing them to deliver a much more powerful blow. Rotary hammers are good for heavy concrete drilling, specifically for deep holes and those larger than 3/8-inch diameter. One of the benefits of these tools is the chuck/drive system: the most common are 'SDS', 'SDS Plus', 'SDS Max', and 'spline.'
Developed by Bosch in 1975 for hammer drills, the SDS (German, Steck – Dreh – Sitz; Insert – Twist – Stay) uses a cylindrical shank on the bit, with indents held by the chuck. Bits are inserted into the tool chuck by pressing in, and locked in place until a separate lock release is engaged. The rotary force is supplied through wedges that fit into two or three open grooves. Two sprung balls fit into closed grooves, allowing movement whilst retaining the bit. The hammer action actually moves the bit up and down within the chuck since the bit is free to move a short distance. SDS requires the tool and bit have the same shank diameter as the chuck – there are two common sizes:
Some roto-hammers also offer the ability to turn off the drilling part of the action, leaving just the hammer mode. With optional chisels inserted instead of drill bits, this duplicates the action of a jackhammer: excellent for chipping concrete or bricks.

SDS/SDS-Plus: a 10 mm shank with two/four open grooves held by the driving wedges, and two closed grooves held by locking balls. Regular SDS bits have 2 grooves; SDS+ bits have four. SDS and SDS+ bits are interchangeable. This is the most common size and works on hammers up to 8lbs (4kg). The wedges grip an area of 75 mm(squared) and the shank is inserted 40 mm into the chuck. SDS/SDS-Plus bits run up to 1-1/8-inch diameter.

SDS-Max: an 18 mm shank with three open grooves and locking segments rather than balls. It is designed for hammers over 11lbs (5 kg). The wedges grip an area of 389 mm(squared) and the shank is inserted 90 mm. SDS-Max drive bits go up to 2-inch diameter.

Spline drives are not as common in the marketplace but have a following with contractors. The design of the spline drive provides more surface-grab for high-torque use. Spline drive bits go up to 2-inch diameter.
Some additional common features you might look for:
Variable Speed Selection – Allows the user to adjust speeds on the tool. High speeds are used for small holes while slow speeds are used for large holes.
2 or 3 mode – Allows the user to select actions (hammer and drill, hammer only, drill only).
Reverse – Allows the user to back a bit out of the hole.
Depth Rod – A devise mounted on the top or side of the drill that lets the user set a desired depth for the hole.
Side Handle – Allows the user an additional hand to hold the tool while drilling, giving better control and more force . Most can be removed for use in a tight spot.
Oil-Free and Oil-Lubricated Compressors

To better understand oil-free compressors, it is helpful to explain oil-type compressors first. Oil type compressors use lubricating oil for three main purposes: lubrication of moving parts in the compression mechanism, cooling of the mechanism and the exiting air and entraining contaminants that enter the compression process through the air inlet. Oil-free compressors do not directly involve oil in the compression mechanism for any of the above three purposes. They may have oil involved in other parts of the compressed air process such as motors and gearboxes, however.
The Key Issue
The controversy centers on whether the compressed air user can tolerate the inadvertent trace amounts of residual oil in the air from oil-types–either as mist or vapor–in their process. Some tooling and motors count on it, and some processes requiring absolutely pure air such as biological, pharmaceutical and food cannot tolerate any oil whatsoever. This is not to speak of the environment inside the plant where the compressed air is consumed and vented to ambient.
Call us if you need further help on your selection of the right type of air compressor : 65 6377 0233 or email us at info@acy.com.sg
How to Size & Select an Air Compressor

Your air compressor is a source of power. Whether you're a weekend hobbyist or a business owner, you need the right-sized air compressor to power your air tools or machines efficiently and properly. Selecting the right air compressor to meet your needs is simple, if you follow these steps.
Instructions
Things You'll Need
The manufacturer's CFM requirement for all of your air tools or machines
What is the electricity supply source you have at site : 230V ; 415V ; 50 hz ?
Location to place the air compressor – avoid high level if you are considering a 3 hp onward…weight & size to be consider..?
Time frame to bring in include installation of air pipelines.
Pneumatic air tools require a volume of compressed air (CFM) at a specific pressure (PSIG) to operate efficiently – they do not require a specific horsepower. Ignore the horsepower rating when sizing and selecting a compressor.
Air Tool Consumption reference can be found at our Puma Pneumatic Tools section of this website. Gather all of your pneumatic tools together. Write down the required CFM to operate the tool (supplied by the manufacturer).
Add together the CFM requirements of all of the pneumatic tools you plan to run at the same time. Now, add another 25% for additional tools, future growth and eventual air system leaks.
Determine the maximum pressure (PSIG) needed to run the air tools. You do not need to add the PSIG values together like you did the CFM requirements, simply use the value of the tool that requires the greatest amount of pressure.
Be sure the motor characteristics of the compressor are compatible such as :
Is your electrical supply single-phase or three-phase? What is the voltage? Residential and commercial buildings usually have single-phase, 230 Volt, 50 Hz or cycle power, while industrial buildings often have a three-phase power supply 415V 50 Hz
Compressors should be used with an air receiver (storage tank). The receiver stores compressed air and minimizes the loaded run time of the compressor. The air receiver should be at least 5 gallons per CFM for optimal results.
Take your CFM, maximum pressure, motor characteristics and receiver size requirements and compare features among brands. Keep the quality factor in mind. You will certainly get what you pay for with air compressors.
Other considerations such as :
Oil free or Oil flooded : certain equipment are sensitive to the oil which used to lubricate the pistons.
Do you required low noise or silent type : such as compressor kept indoor or in lab requires very low dBA. Normal type are usually kept in Compressor room which are constructed away from office and with insulation against noise.
Further filtration system such as air dryer; air filters to remove the moistures; oil or particles from dusty air environment.
Ministry of Manpower requires all air compressor with index above 100 to be registered and test every 24 months. This can be found under factory Act, Occupational Safety Regulation. To get the index, simply multiply the pressure of your air compressor ( 8 Kg/cm2 ) x air receiver size ( e.g 24 Liter ) = 192 index , this will required certification from MOM.
Technology : 1 to 2.5hp – Electric Direct; 3 to 10 hp – recommend piston type; 10 to 100hp – recommend rotary screw type.
Is galvanzie air pipelines necessary or just use flexible air hose ?
Air Compressor Maintenance Tips
Now that you've invested in an air compressor to run all of your air tools you're going to have to learn how to keep it up and running. Because the standard air compressors don't typically require daily upkeep, it's easy to forget about them and neglect their upkeep. This can be a costly oversight so it's vital for you to keep an eye on the following maintenance tips.
Maintenance Tip 1: Read and Follow Your Air Compressor's Manual
Nothing stops an air compressor faster than an owner who doesn't read the owner's manual. There's going to be some simple tips in there for you that will help you to get a nice long life out of your air compressor – simple stuff for you to do that you would never have thought to do unless you read it. Plus, if you don't follow the rules in your air compressor manual there's a chance that you'll void your warranty. That in itself should be enough of an incentive to read the "flipping" manual.
Maintenance Tip 2: Drain The Moisture From The Tanks
The receiver tank collects moisture from the air that it's compressing – especially if you live in a humid climate. Most tanks have a valve for draining this moisture that accumulates and it's up to you to make sure that these are drained regularly. Before draining the water you should be sure to release the air pressure from the tanks, just in case the draincock spring off due to the high pressure. You need not totally remove the draincock inorder to release the water inside the tank.
Maintenance Tip 3: Clean Intake Air Filter Elements
If you force your air compressor to work too hard to intake air you're losing power on your compression. This will gradually degrade the quality of your tool. Be sure to keep your intake vent as clean as possible and check them regularly especially if you're working in a dusty or dirty environment.   Clean the filter elements with pressure air just to get rid of the dust gather on it.
Maintenance Tip 4: Tighten All Fasteners
Your air compressor's a running, vibrating engine and it will loosen its screws, nuts and bolts on a regular basis. Be sure to check these periodically and tighten them up if you find any that have jiggled loose.
Maintenance Tip 5: Check Hoses Regularly
Check all your hoses periodically as they are the veins of your air compressor. If they become cracked or corroded they could soon begin to leak and then put undue strain on the rest of your compressor's components. Be sure to check them and replace them if you find them cracked or damaged.
Maintenance Tip 6: Test the Safety Shutdown System
Your air compressor may have a built in safety shut down. The function of this system is to shut off your compressor if it's getting too hot, or if the engine's oil pressure is too low. This test will help you ensure a longer lasting compressor.
Maintenance Tip 7: Check and Change Air Filters As Needed
A filthy air filter is only hurting your air compressor by allowing dirty air from the outside in, plus forcing it to work harder to intake air. Check your filters regularly and change them if you notice a heavy build up of dust and dirt. Change every six months or so if you use it infrequently.
Maintenance Tip 8: Clean the Fuel Tank ( for engine driven air compressor only )
As with any engine you need to periodically clean out the fuel tank to ensure optimal operating conditions. You should look to clean out the engine on your air compressor once every year or so to remove any residual build up from the fuel. This will preserve the life of your engine.
Maintenance Tip 9: Check and Change the Compressor Oil
If you're running a compressor that uses oil you should be checking it on a daily basis to make sure that your machine is topped off. Then, every 500-1000 hours of use you should be changing this oil to ensure maximum functioning of your air compressor. Use the recommended lubricating oil from your supplier, some users decide to use their choice of hydraulic or motor oil in which the thickness of the oil is a problem for certain compressors.
Maintenance Tip 10: Change the Separator Element ( for rotary screw air compressor user )
The separator element prevents the excessive use of oil, but it has to be replace periodically. Keep your compressor in top condition by replacing the separator element every 1,000 hours of operation.
Maintenance Tip 11: Clean the Heat Exchangers
If your heat exchangers are dirty then they can't do their job, which is to reduce the operating temperatures of your air compressor. Clean them regularly to keep your operating temperatures down and increase the life span of your air compressor.
By following the tips above you'll ensure a nice long life for your air compressor, plus the jobs that you use it for will go faster and more productively. A well maintained air compressor is a wonderful machine for any job site or workshop, so keep yours running smoothly! Cheers.
You need further information on air compressor, write to us at email info@acy.com.sg or call us at 65 6377 0233
Choosing a right generator
The first question you need to ask yourself is why am I buying a generator?
Medical reasons (asthmatic in your family or if someone is on oxygen.)
Black out is often at my place.
You can't live without a pot of coffee.
You are working at a place where electricity source is out of reach, example highway; forest; middle of road junction or field etc..
Generators run laptops; refrigerators, tools, dryers, air conditioners & almost most electrical appliances you could name it. Generators are reliable on a moment's notice to avoid long or short-term power outages. It can also run your home computer. Knowing your needs will help you choose a generator with enough power.
What are the different types of generators
Diesel Generators
Gasoline or Petrol Generators
Gas generators and diesel generators require manual filling (unless you live on a farm and have the required permits to store large quantities of fuel.) They only require a proper container to fill, transport and store.
So ask yourself if Stationary or Portable Generator is more suitable ?
Sizing your generator correctly will ensure performance and increase life span.
You need to calculate what the total load will be to find the best generator.
Take an inventory of the appliances you want to run on the portable generator.
Each appliance should list the wattage on its faceplate or data plate.
If a start up wattage and operational wattage are listed, use the higher number in you calculations.
Make sure to choose a generator that provides more power than what you need.
Amperage, HP, kilowatts, volts, watts?
Watts= Volts X Amps,
Amps= Watts / Volts
1 HP = 746 watts of electricity.
When you have totaled your entire watts needed, divide by 750 and this should be the approximate HP of your generator.
Are you going to use the generator to run sensitive electronics?
Personal computers needs the security of a "smoother" sine wave of AC current to be safe. Every good solar installation uses an inverter for just this purpose as well. So choose the generators with AVR ( Automatic Voltage Regulator ) which will provide a more consistent electricity supply.
Are Generators noisy?
Generators can easily exceed 100 decibels. There are two sources of generator noise: engine noise & exhaust noise. Please note that noise data provided by generator manufacturers will not always include exhaust noise. Check your county and municipal code, they might have a decibel requirement.
If I have a Generator do I need an ATS?
What does ATS mean? Automatic Transfer Switch. This is a piece of an equipment that switches your power requirements from your provider to your generator. This prevents your electricity from flowing from your house through the lines and potentially injuring electric repair workers. An ATS must be installed by a licensed electrician only. The ATS also allows you to operate appliances that don't have cords, ie your furnace.
Generator Accessories
Cable cord ..normally keep within 25 ft
Generator cover or shelter
Fuel stabilizer or 2T for 2 strokes engines type.
Oil funnel
Carbon Monoxide Detector ( not available from us )